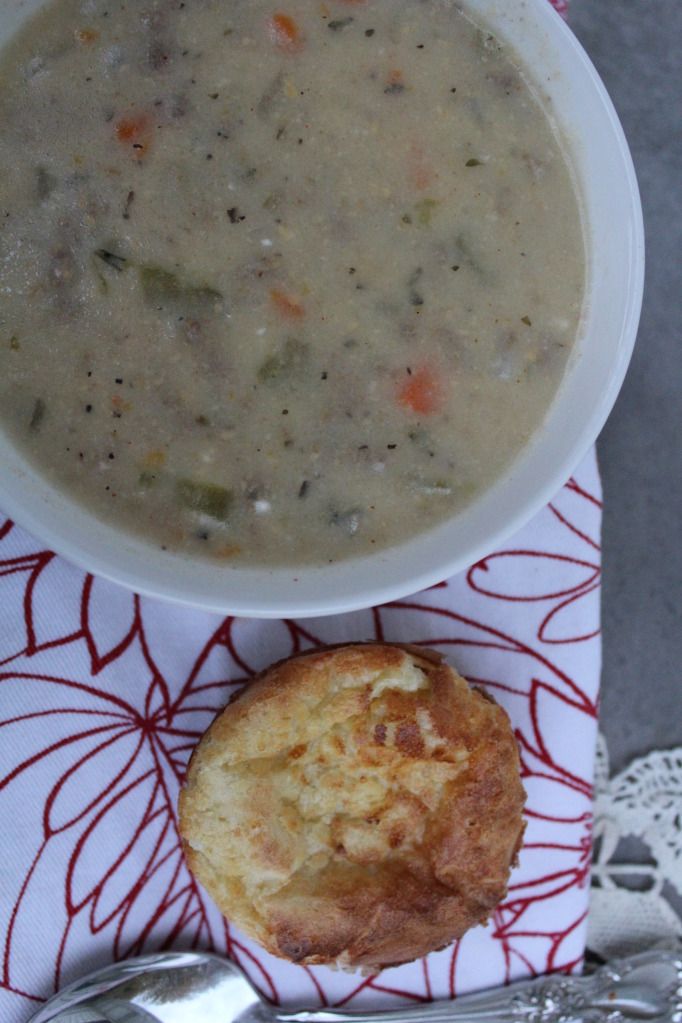 This recipe is so marvelous on a cool fall evening. Every fall, I have a lil dilemma... Mr. Liv doesn't like potato soup, and I love potato soup! Buuuut- Mr. Liv loves this soup, and it has potatoes in it! So if I'm feeling like potato soup (or eating it rather), this recipe is a perfect compromise that be both love! :)
Ingredients

1/2 pound

ground beef

3/4 cup

chopped onion (optional)

3/4 cup

shredded carrots

3/4 cup

diced celery

1 teaspoon

dried basil

1 teaspoon

dried parsley flakes

4 tablespoons butter, divided

3 cups

chicken broth

4 cups

diced peeled potatoes (1-3/4 pounds)

1/4 cup

all-purpose flour

2 cups

(8 ounces) process cheese (Velveeta), cubed

1-1/2 cups

milk

3/4 teaspoon

salt

1/4 to 1/2 teaspoon

pepper

1/4 cup

sour cream




Directions




In a 3-qt. saucepan, brown beef; drain and set aside. In the same saucepan, saute the onion, carrots, celery, basil and parsley in 1 tablespoon butter until vegetables are tender, about 10 minutes. Add the broth, potatoes and beef; bring to a boil. Reduce heat; cover and simmer for 10-12 minutes or until potatoes are tender.

Meanwhile, in a small skillet, melt remaining butter. Add flour; cook and stir for 3-5 minutes or until bubbly. Add to soup; bring to a boil. Cook and stir for 2 minutes. Reduce heat to low. Stir in the cheese, milk, salt and pepper; cook and stir until cheese melts. Remove from the heat; blend in sour cream.

Yield:

8 servings (2-1/4 quarts).
(I actually got this recipe from a friend who got it from her sister-in-law, who got it from
Taste of Home
!)
Enjoy! :)
-Sylvie